Two months ago I booked a one-way flight to Portland, Oregon. My boyfriend and I got accepted to the University of Oregon, and we were excited to begin our new lives as Ducks. Within these last two months, there has been a whirlwind of emotions about whether or not I even wanted to move anymore. The stress of the move was extremely overwhelming to say the very least, and it even landed me a trip to Urgent Care.
My friends were all very worried about me, and they tried to offer me advice to help in any way they were able to. My boyfriend, having to already carry his own burden of stress, was at his wit's end trying to figure out what to do to save me from the emotional and physical strain that I was in. My mom wrote me countless emails and called me constantly, begging me to "just come home" to her. She wanted me to let her take care of me. My boyfriend wanted me to let him in, and my friends wanted me to take their advice to heart. I think there was a point where I found myself in a fetal position on my bedroom floor not knowing what to do with myself because I am so steadfast on keeping everyone out, and the fact that everyone in my life was trying to find a way in simply knocked the wind out of me. That was why I made the decision to just move and figure it all out once I got to Portland.
My flight to Portland left at 8:00 a.m. this morning, and on it I was not.
There are many reasons that played into my decision to stay in Hawaii. The main one is being that my life was just starting to pick up here. School has been going really well aside from that one B+ that ruined my perfect 4.0 GPA (I'm just now starting to get over it), and also I was recently promoted at my job. If I transferred my job to Oregon, I would have had to go back to my previous position with no benefits at all. Not ideal. Also, I was lucky enough to build a strong network of friends and coworkers, and I did not want to have to start again from square one in yet another place where I don't know a single soul aside from my boyfriend. Speaking of the boyfriend, yes he is staying with me. The debate over whether or not we should stay was not easy on our relationship, because there was a possibility that we might have had to split up. In the end, we realized that the two of us have come too far after almost two years of being together to even think about leaving each other just for a new school when we are already in a good school already.
I know that this isn't much of a change now that I am not moving back across the Pacific Ocean. To many, it may seem like an anticlimactic end to a long series of stress and turmoil, but to me, I am very excited about continuing my life here in Hawaii. I have been looking at everything with such sadness, not knowing when I will ever be able to see it again. Now, I even feel excited when I see the Ala Moana Shopping Center, knowing that I still get to shop at such an awesome mall! Also, I am happy to still be able to swim with turtles and eat the best pineapples in the world.
This is my city. This is my paradise.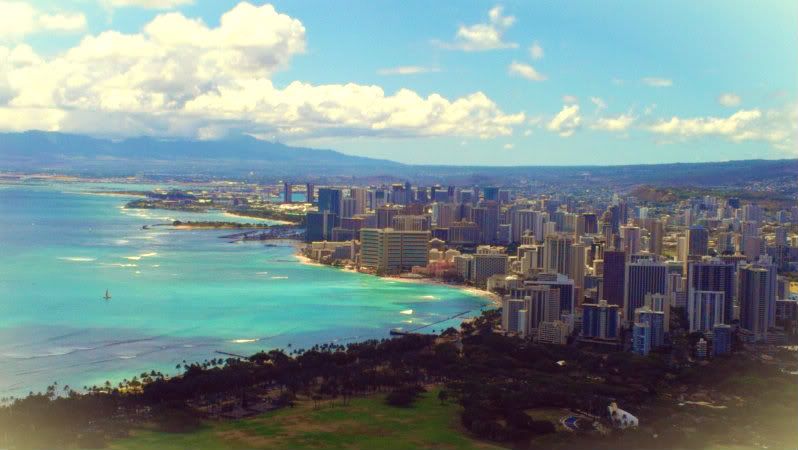 Taken from my hike to the top of Diamond Head.
Oh, the little things...